Browsing articles in "Budget Travel in Singapore"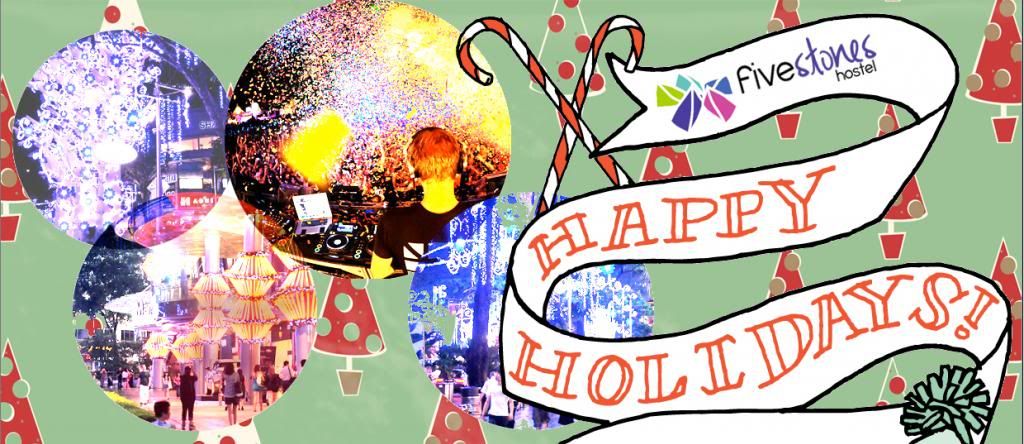 There are many ways to spend Christmas – with a family dinner, with friends at a party, soaking up the atmosphere in town but the best by far (in our opinion!) is spending it overseas with someone you love or just with new friends that you meet along the way.
If you are going to spend Christmas this year in Singapore, here are some big events that are happening during this festive season! Regardless if your party budget is big or small, we will definitely have somewhere in this red dot to keep you occupied. Drop us a message at Five Stones Hostel (Facebook) if you have any more suggestions for us to add in. We would love to hear from you!
Shop your way through the festivities 
From 17 November 2012 to 6 January 2013, get the chance to see Orchard Road – Singapore's main shopping street, light up & dazzle you with their light displays and Christmas ornaments. Rumor has it that Somerset 313, one of the malls in town, has one of the best Christmas display this year. However, don't take our word for it! If you have the chance to, talk a walk on your down and decide for yourself which fancies your attention more, the glam or the glitz!
Needless to explain, Zoukout is a yearly event that happens at Sentosa every year with some of the biggest music acts coming together to spin the wildest tracks just for you! Ticket prices start from $78SGD & up. If you are in the mood to party hard while your here, this event will not disappoint. Click here to be redirected to the ticketing page for Zoukout.
Count down the year with Marina Bay Sands
If neither shopping or partying are your way of ending the year off, maybe an old fashioned count down will do the trick! Doll up a bit more than usual (because you want to look for the camera during the last 10 minutes of 2012!) and head down to Marina Bay Sands (Nearest MRT: Bayfront) for the best last few hours of 2012. Do note that it won't just be counting down so be sure to keep your valuables stashed away in a safe place and leave your quiet side at home!
Stay in for Christmas/New Year's with us!
Lastly, if none of these are your fancy, you are welcome to book a bed with us at the hostel and stay in to revel with the atmosphere without actually being in it! Our hostel faces one of the main roads in town (South Bridge Road) which means even if you do feel like joining in last-minute with the festivities, it's nothing more than walking down to grab a cab into town – we are just ten minutes away! Otherwise, hot chocolate, 10 seasons of friends and good company awaits you at the hostel all night long.
PS: Do you have something else in mind? If you are already in town and have an idea of your own but no idea how to execute it, drop by our reception & approach any of our staff and let them know your plans for Christmas/New Years Eve. If we can do anything to help with your plans, we definitely will.
Cheers,
Five Stones Hostel Team
Looking for a worthwhile activity to do during your stay in Singapore? Why not try out the Singapore Flyer? Catered to both young and old, it's an attraction that will intrigue any type of traveller. Whether or not you are looking to just take some pictures, have a meal or try something different this is one place that will do well in aiding all your leisure (and play!) needs.
Here's our recommended itinerary for a half-day at the Singapore Flyer, we've also included a few extra places to check out at the end of it all if you still have time to wander around!
Our first stop – Singapore Flyer. No trip to Singapore is complete without giving a swirl on this huge ferris wheel-like contraption! Admission to this place starts from 8:30am all the way to the last spin at 10:15am. Depending on what you're in the mood for – if night lights and romance is you're looking for than heading to the flyer during the evening is a better bet but if you enjoy seeing clear skylines and beautiful architecture (it overlooks Marina Bay Sands as well as the soon to be opened Gardens By the Bay) than doing in the day would be your prime choice.
Prices start from just $29.50SGD for adult and $20.65SGD for a child, if you're a bit younger – say 60 and above than it will be just $23.60SGD for a spin. If your wallet is feeling up to it, you can also consider having a full fledged butler served meal in one of the capsules itself! All for a good price of $269SGD++ per couple. Tickets for the flyer itself can be bought on-site but for the dining option, it's best to book online.
Credits to Kayla http://kaylalu.blogspot.sg/2011/07/kenko-fish-spa.html
While we may love staring at fishes through huge tinted glasses in aquariums and getting a chance to pet their fishy heads during meet and great sessions, nothing beats being able to let them (fishes) 'physically' interact with you! A great place to check out is Kenko Spa which offers fish spa services. Yes you heard right. The general idea is to dip your leg into a pond of nibbling fishes and let them exfoliate your dead skin for you, think of it as having a facial but instead of a professionally trained aesthetician you get a school of fishes eagerly waiting to be friends with your feet. It will definitely be an experience worth laughing about!
Lastly, finish off your night with a meal at the The Singapore Food Trail! Featuring 12 stalls of mouth watering delectable dishes, there will definitely be a dish that will attract both your eyes and stomach. We also love how they have managed to replicate the Singapore food scene back in the 1960's right down to the last teaspoon!
Here are our top few dishes that you definitely should not miss out during your visit to The Singapore Food Trail!
1. Oyster Omelette
A combination of fried eggs, oysters and a few dollops of potato starch is what make this dish yummy! The fun part of eating this is grabbing a serving of each component (including the green garnish) and dipping it in chilli than eating all of it together. Too yummy indeed.
2. Popiah
Simply put, Popiah is a thin crepe-like wrap filled with cooked white turnip, beansprouts, chopped up eggs and a variety of julienned vegetables. Soft on the outside but full of crunch on the inside! This is one healthy asian wrap you do not want to miss.
3. Satay Bee Hoon
Satay Bee Hoon is a chilli-based peanut dish that manages to harmonize both sweet and spicy flavors together in one dish. It complements it's flavor well with bee hoon (a type of rice based noodle) topped with slices of cuttle fish, lean pork, cockles and hearty servings of greens.
4. Sugarcane and Bird Nest Drink
There's nothing quite soothing as quenching your thirst down with a big 'ol cup of Sugar Cane Juice. Naturally sweet on it's own, it's a drink that's both refreshing and interesting! If you are feeling a bit more adventurous, try the Bird Nest Drink which as the name suggests contains bits of bird nest inside.
5. Ice Kachang
To top it all off, end your meal with Ice Kachang – a mini ice mountain poured over with sweetened syrups of different colors – the best part about this dessert is finding out there is a treasure trove of fruit cocktails and dressings hidden inside the Ice Kachang waiting for it's lucky eater to devour all of it up.
Now, isn't this a great way to spend your day in Singapore? We daresay yes on your behalf! :)
The long awaited Gardens by the Bay attraction is due to open in Singapore on 29th June 2012. We think its going to be awesome!
Visitors will be able to experience its signature features such as the "Flower Dome" and "Cloud Forest" cooled conservatories; the Supertrees in the Golden Garden, Silver Garden and Supertree Grove; the Heritage Gardens; The World of Plants; and the Dragonfly and Kingfisher Lakes.
In addition, they can look forward to changing floral displays in the Flower Dome, a specially choreographed light and sound show at the Supertree Grove, and a series of interpretive media and narratives that bring to life the story of plants. Completing the experience will be a host of lifestyle offerings including dining and retail.
Bay South Garden will be open to the public from 5.00am to 2.00am daily. Opening hours for the cooled conservatories and the aerial walkway in the Supertree Grove are from 9.00am to 9.00pm daily. Great for romantic dates and late night exploration ;P
Entry to Bay South Garden will be free (hurray!), with the exception of the cooled conservatories which showcase plants of high conservation value from two of the most endangered habitats in the world.
Check out the photos below:
Singapore, true to its reputation, is a sunny tropical island 90% of the time.
First time visitors to Singapore may be surprised by the hot and humid weather here, so Five Stones Hostel has decided to teach you how to 'arm' yourself to tour sunny Singapore!
Five tips to tackle Singapore weather:
Know thy enemy – The temperature in Singapore hovers between a high of 35 degrees celsius mid-day to a low of 25 degrees celsius at night. Humidity levels are usually high, exceeding 90% on most days. This means you will generally break into a sweat if you walk outdoors for more than 10 minutes. Showers are occasional and generally do not last more than 30mins, except in December.
An umbrella, a hat and a pair of sunglasses are a must to keep yourself out of direct sun throughout a full day of sightseeing. For added comfort, bring along an electric hand-held fan.
Wear 100% cotton clothing to keep yourself cool – short sleeve tops, bermudas and flip-flops are the default local garb of locals and tourists alike.
Hydrate, hydrate and hydrate – what comes out as sweat must be replenished constantly throughout the day. Bring a bottle of water with you, or grab fluids at the numerous cafes and shops around. A 500ml bottle of water costs around S$1.50 at small provision shops but can go up to S$3.00 if you buy them within tourist attractions.
Plan your sightseeing – try to include visits to nearby air-conditioned shopping centers/cafes/MRT stations in your itinerary. That way, you can get out of the heat and cool off in between sights. A visit to a spa or foot reflexology outlet will do wonders to revive the wanderlust in you.
Bonus tip: choose to stay at Five Stones Hostel cuz all rooms in Five Stones Hostel are fully air-conditioned! You will not need to worry about the heat when lounging indoors in our rooms and lounge. :)
Top 5 free places to visit in Singapore
(by Five Stones Hostel)
Walk from Five Stones Hostel to the Marina Bay waterfront  (20mins walk), wander around the riverfront to snap breathtaking photos of the Singapore skyline from the One Fullerton promenade. After that, stroll over to the Esplanade – Theatres by the Bay and check out the latest indoor and outdoor art pieces/ sculptures dotted around. If you are there in the evenings, look out for free music performances ranging from alternative jazz  to straight out rock bands in the Outdoor Stage or Indoor Concourse.
The Botanic Gardens boasts Singapore's largest national garden where you can immerse yourself in the rich flora and fauna of Asia. There are numerous attractions like the Ginger Garden or Botany Centre for the horticulturist in you. Else, bring a mat to lay on the soft grass and you'll find the hours slip away as you watch children feeding the ducks, couples walking their dogs or just reading your book. If you're lucky, the Singapore Symphony Orchestra has, on occasion, been known to put up free performances of Classics in the Park.
Check out the street architecture of ethnic Chinatown, mostly filled with shophouses featuring elements of baroque and Victorian architecture. Experience what it is like to live in multi-religious Singapore by visiting the Jamae Mosque (Islam), Sri Mariamman Temple  (Hinduism) and Buddha Tooth Relic Temple (Buddhism) , all three of which sit side by side on adjacent streets.
Fancy walking among lush greenery and admiring tree canopies up close? The Southern Ridges trail is a great way to take a breather from the hustle and bustle of the city before you head back to shopping and partying. The 9km chain of green, open spaces is made up of walkways and elevated bridges that connect Mount Faber, Telok Blangah Hill and Kent Ridge. Don't miss out on the Henderson Waves bridge that sits 36m above Henderson Road, where you can enjoy a good view of the harbour and southern islands.
Take a tour of the Sustainable Singapore Gallery at the Marina Barrage. After exploring Singapore's efforts towards sustainability, head to the Green Roof for kite-flying , a pre-packed picnic or just soak in the panoramic view of Singapore's skyline and open sea.
Recommend us to your Friends
Singapore's Top Rated Hostel
Our visitors come from all over the world!