Browsing articles in "Food"
If there is one thing that we all know about Chinese New Year is that the food never stops coming, even when the people's stomach stop digesting. Just like every other holiday around the world, Chinese New Year is a great time to bring together family & friends to have a good feast and revel in the festivities that happens only once a year! Instead of just telling you where to eat and what to see, we decided that we would put together a mini guide that describes the hidden meanings behind all our chosen food dishes/snacks/ornaments. Don't worry, we will also fill you in on where you should be during this festive period. Psst, Chinese New Year falls mainly on 10 – 13 February (Sunday – Tuesday) this year but that does not mean you can't stay past those dates to enjoy the full 15 days of celebration and goodies!
Also, if you book with us from Monday – Thursday, you get 10% off your booking.

We don't know about you but we think that is an excellent reason to travel to Singapore!
What is Chinese New Year?

Otherwise known as "Spring Festival" (pronounced as "Chūnjié"), Chinese New Year is the major holiday in any Chinese household. It happens on the first day of the first month but as the Chinese calendar differs from the calendar that we use now (Gregorian), dates tend to differ every year based on the changes of the moon.

It is a time where families spring clean the house to prepare for the new year ahead as well as to sweep any ill fortune to make way for the incoming good luck.

Houses will be decorated with red/gold decorations that promote longevity, fortune & good luck. Pictured left is an example of the decoration shops that will open during the festive period.
What year is this?

Based on the Chinese calendar, years are grouped in sets of 12 with each other being represented by a different animal in the zodiac sign. It is rumored that if you are born in the year of a particular animal such as a sheep or monkey, your characteristics are reflected accordingly to the animal's character.

The year 2013 is a year for the snake. Depending on which animal it is every year, you can typically find decorations & gifts designed in the year of the animal. If you are interested to find out which zodiac animal you belong to, click here to learn more.

Picture Credit: Xin Hua Net (link)
What dishes are eaten on Chinese New Year?

The best part of Chinese New Year (apart from seeing familiar family faces!) is the huge variety of Chinese snacks/desserts/dishes that you will be surrounded with during this festive period. You may not be able to eat every single dish but it's always nice to have more options!

There are a lot of dishes that are widely available during this period & most families/places will incorporate dishes that are typically not eaten every day (such as expensive seafood like crab, abalone & shark's fin) into their dinner menu.

A few famous dishes that are popular during this festive period is "yúshēng" (otherwise known as a raw fish salad), dumplings, roasted meat & steamboat dinners.

Picture Credit: Cuisine Paradise (link)
Chinese New Year Snacking
Apart from just main meals, Chinese New Year offers lots of snacks & goodies that will stuff you up way before you even reach the dinner table. Here is our quick guide on the little facts & fun behind these festive snacks. P/S: Don't say we didn't warn you, one bite of any of these is enough to have you devour the whole jar in one sitting!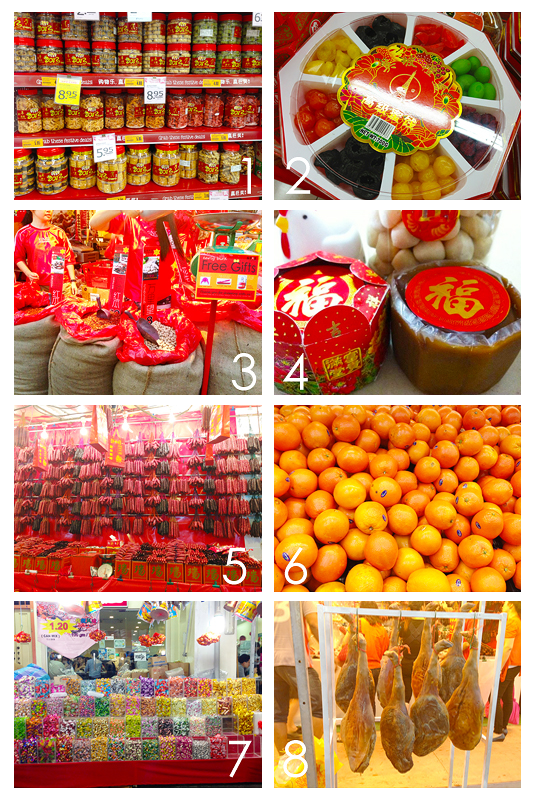 Picture Credit: Nicolette / Grace
Partial Text Credit: Infopedia Sg
Bottles of New Year Snacks – Walk into any supermarket during this festive period and you'll be surrounded by aisles of sweet, savory and sour snacks. One of the fun aspects of house-visiting family members & friends is being able to try the variety of snacks that they have at the house. Staple snacks that one can find is pineapple tarts (bite-sized pastries topped with a pineapple filling), love letters (thin-like cylindrical wafers), prawn rolls (bite-sized deep fried rolls filled with spicy prawn paste) and kueh bahulu (dry sponge cakes).
Octagonal Tray of Sweets/Nuts/Preserved Fruit – You will also notice trays of snacks arranged in 8 compartments comprising of either sweets, nuts or preserved fruit. "8" (pronounced as "ba") is considered a lucky number in Chinese culture because the pronunciation for "ba" sounds similar to "fa" which is a character in the Chinese language that means "to prosper". As such, when offering a tray of snacks/sweets to relatives/families it implies that you wish for them to prosper in the new year ahead!
Nuts – Apart from just savory snacks & sweets, nuts are also an essential snack during Chinese New Year. Peanuts when pronounced in Mandarin ("hua sheng") means "flower of life", ground nuts (otherwise known as "chang sheng gua") means "nut of longevity" which promises a long & healthy life. The next time you sip a beer and have some accompany nuts as a side, just remember that you are extending your life with every bite!
Sticky Rice Cake (Nian Gao) – This snack/dessert is definitely everyone's favorite but the meaning behind it is too sweet to even compare to the taste of this snack! There is a variety of meanings behind the Chinese characters (given that each character of Mandarin has 5 strokes with 5 different meanings) but the basic understanding is that the character "Nian" can mean sticky which symbolizes staying close to one another through thick and thin. The word "Gao" can mean high which is understood as whoever who eats it may gain a higher status in the new year ahead and prosper.
Chinese Sausage – Otherwise known in it's Cantonese pronunciation, "lap cheong" is often used in stir fried dishes to intensify the flavor in the dish. It is commonly paired with vegetables, rice or noodles but the best combination is said to be rice or noodles as the rice will soak up the fat from the sausage and with each bite, you will be able to taste the full flavor of the meat. Savory indeed!
Mandarin Oranges – This is probably the most common item associated with Chinese New Year simply because it is eaten all year round by everyone around the world. Once again, the meaning that the oranges hold in Chinese dialects is translated into "gold" (Cantonese) or "lucky" (Mandarin). Both of which carry prosperous meaning that one's family would like to have in their home. It is a given to give out mandarin oranges in pairs as a sign for good luck. Do take note not to give four oranges as the number four in Mandarin sounds like the character "si" which means death! You definitely would not want to wish friends/family death on this happy occasion.
Array of Sweets – Loose sweets or snacks are also often seen in the night markets in Chinatown. They are usually sold in packs of 100g for $1.00SGD – $2.00SGD. They are a popular hit with both the young & old. You may also come across sweet stalls selling cold packets of desserts which come in a variety of festive flavors such as mandarin, plum, peach, red bean, green tea & more!
Waxed Pork Leg – If you are lucky enough, you may catch a glimpse of these huge waxed pork legs outside preserved meat shops which are used for prayers to the Chinese gods. Meat is considered a luxury item in Chinese culture as not all families in the past were able to afford it – they would only have meals with homegrown vegetables or starchy dishes such as noodles/rice. When occasion called for it, families would offer meat as a sacrifice to the Chinese gods in hope for a better crop/family harmony/providence. Nowadays, meat is offered to the Chinese gods as a guarantee for a lucky and prosperous year ahead.
Celebrating Chinese New Year
The last and possibly the best aspect of Chinese New Year is experiencing it! Regardless if you are in a foreign country or back at home, there is definitely always a Chinese New Year tradition that you are welcome to implement into your home. We have listed down 3 pocket friendly activities in Singapore that you can go to during this festive period without busting the budget. Don't worry too much about checking the boxes on Chinese New Year traditions though, at the end of the day the important part of Chinese New Year is celebrating it with the people you cherish & love!
Chinese Steamboat Dinner

Hit up the Chinese factor by one notch by having a steamboat dinner instead of a typical restaurant fare! For as cheap as >$15/per person you get a buffet line of vegetables, meat, seafood & free flow drinks. Did we also mention some steamboat joints offer grilled BBQ options where you can grill your meat too?

The hygiene factor may be questionable but the experience factor overrides it for sure! We recommend heading to the end of Liang Seah Street (near Bugis MRT) where rows of steamboat joints await your presence. Click here to be redirected on how to get to Liang Seah Street from Five Stones Hostel.
Chinatown Night Market

If you are more into exploring sights & sounds than this yearly night market would be the one to check out. Located at the back of Buddha Tooth Relic Temple in Chinatown, this market opens up yearly during Chinese New Year to a huge variety of snacks and stores. You will also find pop-up stores selling red colored ornaments and gifts that is sure to find a way into your decoration at home!

For directions from Five Stones Hostel, click here.
Chingay 2013

An annual 40-year old street parade that features stunning floats, firework display as well as both local & international acts. Take the chance to be a part of this extravaganza during this Chinese New Year. Tickets started from >$30SGD and go up all the way till $60SGD.

This year's theme is "Fire In Snow" and it is said to feature a spectacular backdrop snow scene against fire. It honors and symbolizes the spirit of resilience in Singaporeans.

Click here to find out more about the event/to purchase your ticket.
If you are interested to see how Chinese New Year is like in Singapore, click here to be redirected to our Chinese New Year album on Facebook. If you have any other questions, feel free to let us know in the comments and we will be more than happy to help you :)
Looking for a worthwhile activity to do during your stay in Singapore? Why not try out the Singapore Flyer? Catered to both young and old, it's an attraction that will intrigue any type of traveller. Whether or not you are looking to just take some pictures, have a meal or try something different this is one place that will do well in aiding all your leisure (and play!) needs.
Here's our recommended itinerary for a half-day at the Singapore Flyer, we've also included a few extra places to check out at the end of it all if you still have time to wander around!
Our first stop – Singapore Flyer. No trip to Singapore is complete without giving a swirl on this huge ferris wheel-like contraption! Admission to this place starts from 8:30am all the way to the last spin at 10:15am. Depending on what you're in the mood for – if night lights and romance is you're looking for than heading to the flyer during the evening is a better bet but if you enjoy seeing clear skylines and beautiful architecture (it overlooks Marina Bay Sands as well as the soon to be opened Gardens By the Bay) than doing in the day would be your prime choice.
Prices start from just $29.50SGD for adult and $20.65SGD for a child, if you're a bit younger – say 60 and above than it will be just $23.60SGD for a spin. If your wallet is feeling up to it, you can also consider having a full fledged butler served meal in one of the capsules itself! All for a good price of $269SGD++ per couple. Tickets for the flyer itself can be bought on-site but for the dining option, it's best to book online.
Credits to Kayla http://kaylalu.blogspot.sg/2011/07/kenko-fish-spa.html
While we may love staring at fishes through huge tinted glasses in aquariums and getting a chance to pet their fishy heads during meet and great sessions, nothing beats being able to let them (fishes) 'physically' interact with you! A great place to check out is Kenko Spa which offers fish spa services. Yes you heard right. The general idea is to dip your leg into a pond of nibbling fishes and let them exfoliate your dead skin for you, think of it as having a facial but instead of a professionally trained aesthetician you get a school of fishes eagerly waiting to be friends with your feet. It will definitely be an experience worth laughing about!
Lastly, finish off your night with a meal at the The Singapore Food Trail! Featuring 12 stalls of mouth watering delectable dishes, there will definitely be a dish that will attract both your eyes and stomach. We also love how they have managed to replicate the Singapore food scene back in the 1960's right down to the last teaspoon!
Here are our top few dishes that you definitely should not miss out during your visit to The Singapore Food Trail!
1. Oyster Omelette
A combination of fried eggs, oysters and a few dollops of potato starch is what make this dish yummy! The fun part of eating this is grabbing a serving of each component (including the green garnish) and dipping it in chilli than eating all of it together. Too yummy indeed.
2. Popiah
Simply put, Popiah is a thin crepe-like wrap filled with cooked white turnip, beansprouts, chopped up eggs and a variety of julienned vegetables. Soft on the outside but full of crunch on the inside! This is one healthy asian wrap you do not want to miss.
3. Satay Bee Hoon
Satay Bee Hoon is a chilli-based peanut dish that manages to harmonize both sweet and spicy flavors together in one dish. It complements it's flavor well with bee hoon (a type of rice based noodle) topped with slices of cuttle fish, lean pork, cockles and hearty servings of greens.
4. Sugarcane and Bird Nest Drink
There's nothing quite soothing as quenching your thirst down with a big 'ol cup of Sugar Cane Juice. Naturally sweet on it's own, it's a drink that's both refreshing and interesting! If you are feeling a bit more adventurous, try the Bird Nest Drink which as the name suggests contains bits of bird nest inside.
5. Ice Kachang
To top it all off, end your meal with Ice Kachang – a mini ice mountain poured over with sweetened syrups of different colors – the best part about this dessert is finding out there is a treasure trove of fruit cocktails and dressings hidden inside the Ice Kachang waiting for it's lucky eater to devour all of it up.
Now, isn't this a great way to spend your day in Singapore? We daresay yes on your behalf! :)
In life, there are many things that make us happy – spending time with family, chilling out with friends, awesome music, travelling to new places, reading a good book, getting a job, getting paid for the job and than there is food. A four-letter word in the dictionary that manages to cure most of your problems. When paired with words cheap and good it becomes like an item sent from heaven to solve our rumbling tummies and cancer-stricken wallets!
We know what it's like to look into your wallet on holiday and think twice before eating something. It's like opportunity cost. If you eat that $20 bowl of Japanese ramen for dinner, you would not be able to buy the Singapore Zoo ticket that we sell (isn't that convenient!) for $20 and go visit the animals that you have been clearly planning to see for months.
Also, we're pretty frugal people ourselves and we love discovering tasty and affordable eats around our area! Therefore, we present to you the few places that we've been da-pao'ing (Mandarin for 'takeaway') our lunch from. We hope we try it and let us know if you like it, love it or simply can't get enough of it like us!
62 South Bridge Road
Closed on Mondays / Opens from 7am to 3pm
Located on the opposite side of where our hostel's at, convenience just doesn't justify how convenient it really is! What makes this delightful joint much more appealing is the fact that every sort of noodle variety on the menu goes for just S$2 a bowl! Top it up with an additional dollar if you feel like upsizing your meal. We recommend: Laksa, if your a spice lover your sure to enjoy this Singaporean dish – it's a combination of Asian spices with coconut milk, dolloped over with rice noodles, fish cakes, dried beancurd and topped up with a halved egg! Too sin-ful indeed.
Nur-Hikmah Malay Food Stall at BK House 
92 Circular Road 
Closed on PH / Mon – Fri 10am – 9pm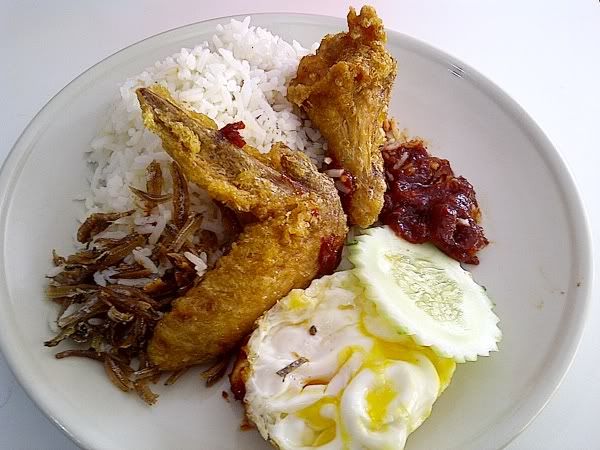 Having absolutely no relation to the fast food joint known worldwide, this coffeeshop tucked along the side of Circular Road boasts a good few food shops that's sure to make you drool with hunger! One of them is a Malay food stall (look out for the green signage) that sells absolutely smashing Nasi Lemak! For the price of S$3 a plate, you get a standard portion of coconut milk rice paired with 1 piece of deep fried chicken, ikan bilis (fried anchovies) and a spoonful of sambal chilli. The best way to eat it? Have a bite of everything at once, close your eyes and let the fireworks in your mouth explode with pleasure.
92 Circular Road
Closed on Sundays / 24 hours every other day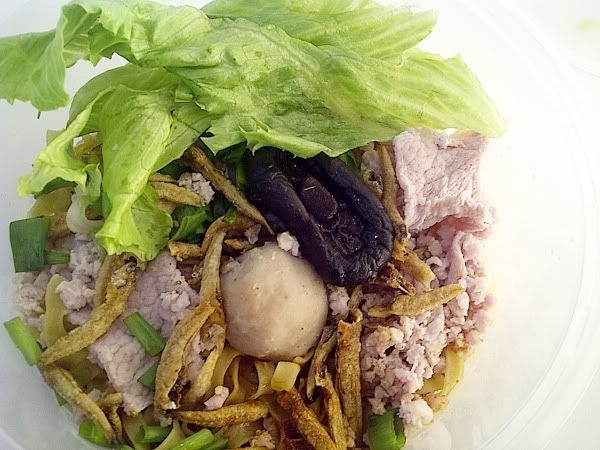 Located just next door to the Nasi Lemak store is the famous Bak Chor Mee (it means 'minced meat noodles' in Hokkien) it's a popular eating spot for night go-getters and you'll often see people flocking towards this joint in the evenings to grab a bite before going to party the night off. There are a variety of noodle options available for the minced meat noodles but the standard yummy option would be to say "mee pok dry – bak chor with chilli" Alternatively, if it's a cold night you can always opt for the soup option and have it without chilli!
Saizeriya Ristorante E Caffe at Liang Court
#02-22 177 River Valley Road
Open from 10am – 10pm daily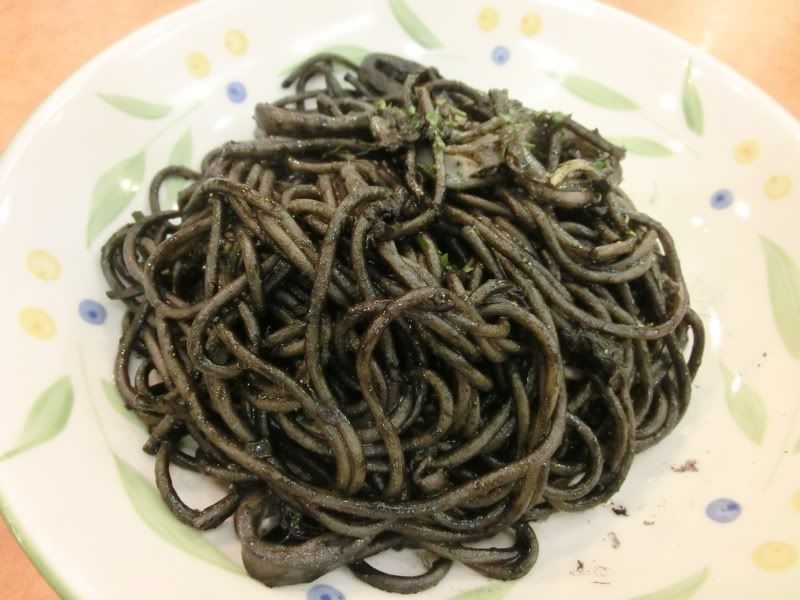 If your looking for a place to beat the heat but not your wallet than look no further! Easily found on the 2nd floor of Liang Court (which is known to be a Japanese mall filled with everything & anything Japan related) this affordable Italian-Japanese jont offers cutting edge prices with flavor to beat. We recommend: Squid Ink Pasta (S$5.90) – it's not exactly the kind of dish you'd want to eat infront of a first date (hint: it leaves black squid ink dye on your lips and tongue) but it's something that's definitely worth a try if you haven't had it before! The restaurant also serves up other good pasta dishes and has a SS$2.90 all you can drink softdrink offer.
Drooling yet? It's time to hop off your chair and hop into theirs! :)
CHICKEN RICE
Singapore's national dish. The fragrant rice is cooked in chicken stock and comes with boiled or roast chicken.

Where to go?
Around Five Stones Hostel:
Tian Tian Hainanese Chicken Rice
Stall 10, Maxwell Food Centre, Maxwell Rd
Opening hours: 11am – 8pm, or till sold out (Closed on Mondays)
Heng Ji Chicken Rice
#02-131 Chinatown Complex Food Centre, Blk 335 Smith St
Opening hours: 3 – 9pm
And if you need even more choices
Wee Nam Kee Chicken Rice
275 Thomson Road, #01-05 Novena Ville (opposite Novena Church)
Opening hours: 10am – 2am daily
Boon Tong Kee
299/401 Balestier Rd
Opening hours: 11am – 4.45pm, 5.30pm – 2.30am (Mon – Sat); 11am – 4.45pm, 5.30pm – 2.30am (Sun)

---
CHILLI CRAB
This popular seafood dish has its origins in Singapore. Mud crabs are often used and are stir-fried in a tomato and chilli-based sauce. Definitely a must-try for all seafood fans!

Where to go?
Around Five Stones Hostel:
Boon Tat St BBQ
Stall 43/44, Lao Pa Sat Festival Market, 18 Raffles Quay
Opening hours: 12pm – 3am
Dragon Phoenix
Level 6, Novotel Clarke Quay, 177A River Valley Rd
Opening hours: 11am – 3pm, 6-10.30pm (Mon – Sat); 10am-3pm, 6-11pm (Sun)
Jumbo Seafood Restaurant
#B1-48 The Riverwalk, 20 Upper Circular Rd
OR
#01-01/02 Riverside Point, 30 Merchant Rd
Opening hours for both: 12-3pm (last order at 2.15pm), 6pm – midnight (last order at 11.15pm)
And if you need even more choices
Mattar Road Seafood Barbecue
#01-63 Old Airport Rd Food Centre, Blk 51 Old Airport Rd
Opening hours: 3 – 11pm (Mon, Thur – Sun)
Bayshore Seafood Delicious
Blk 236 Woodlands St 32, #01-103
Opening hours: 11.30am – 2.30pm, 5 – 11.30pm
---
CHWEE KUEH
Lovely little steamed rice cakes topped with fried preserved radish – the more the merrier! Perfect for breakfast or as a snack.

Where to go?
Around Five Stones Hostel:
Bedok Chwee Kway (Chinatown Branch)
#02-43 Chinatown Complex Food Centre, Blk 335 Smith St
Opening hours: 7am – 9pm
And if you need even more choices
Jian Bo Shui Kueh
#02-05 Tiong Bahru Market and Food Centre, 30 Seng Poh Rd
Opening hours: 6am – 10.30pm
Tiong Bahru Chwee Kueh
#02-62 Tiong Bahru Market and Food Centre, 30 Seng Poh Rd
Opening hours: 5am – 2.30pm
---
BAK KUT TEH
The name 'bak kut teh' literally translates as 'meat bone tea'. It's actually pork ribs simmered in a herbal, peppery broth. The Teochew version is light and peppery; the Hokkien version is darker and saltier; the Cantonese version is very herbal. Pick your favourite!

Where to go?
Around Five Stones Hostel:
Song Fa Bak Kut Teh
#01-01, 11 New Bridge Rd
Opening hours: 7am – 10pm (closed on Mondays)
And if you need even more choices
Leong Kee (Klang) Bak Kut Teh
251 Geyland Rd (beside Lorong 11)
Opening hours: 11.30am – 9.30pm (closed on Tuesdays)
Ng Ah Sio Pork Ribs Soup Eating House
208 Rangoon Rd
Opening hours: 6am – 2pm (closed on Mondays)
Outram Park Ya Hua Rou Gu Cha
#01-05/07 PSA Tanjong Pagar Complex, 7 Keppel Rd
Opening hours: 7am – 3pm, 6pm – 4am (closed on Mondays)
---
FRIED CARROT CAKE aka CHAI TOW KUEH
This dish has absolutely nothing to do with the Western dessert. Foreigners who know no better are often stunned by what they see. In fact, there is no carrot in this dish. It is made from radish cake stir-fried with eggs and preserved radish. There are two versions of this dish: white and black (fried with sweet black sauce).

Where to go?
Around Five Stones Hostel:
Ah Lo Cooked food
#02-003 Chinatown Complex Food Centre, Blk 335 Smith St
Opening hours: 5 – 7pm or till sold out (closed on Wednesdays)
Jin Ji Mei Shi
Stall 96 Maxwell Food Centre, Maxwell Rd
Opening hours: 5am – 2pm or till sold out (closed on Wednesdays)
And if you need even more choices
Chey Sua Carrot Cake
#02-30 Toa Payoh West Market & Food Court, Blk 127 Toa Payoh Lorong 1
Opening hours: 6am – 1pm (closed on Mondays)
Lim Hai Sheng Cooked Food
#01-09, Blk 724 Ang Mo Kio Ave 6 Market & Food Centre
Opening hours: 8am till sold out
Geylang Lor 29 Fried Hokkien Mee
396 East Coast Rd, Food R Us Coffeeshop
Opening hours: 11.30am – 9pm or till sold out (closed on Mondays)
---
LAKSA
This is a spicy noodle soup dish with Peranakan roots. The soup is made with several spices, as well as coconut milk. Toppings include prawns, fish cakes and cockles. Not for the faint of heart!

Where to go?
Around Five Stones Hostel:
Famous Sungei Road Trishaw Laksa
#02-67 Hong Lim Food Centre, Upper Cross St
Opening hours: 10am – 6.30pm (closed on Sundays and public holidays)
Qi Ji
#01-17 Funan Digitalife Mall, 109 North Bridge Rd
Opening hours: 9am – 8.30pm
And if you need even more choices
Marine Parade Laksa (The Original Katong Spoon Laksa)
#01-64 Roxy Square, 50 East Coast Rd
Opening hours: 9am – 7pm
Sungei Road Laksa
#01-100 Jin Shui Kopitiam, Blk 27 Jalan Berseh
Opening hours: 9am – 6pm (closed on 1st and 3rd Wed of the month)
---
POPIAH
The Oriental version of a wrap. This features turnips, carrots, bean sprouts, ground peanuts, prawns and other ingredients wrapped in a rice flour sheet with sweet soy sauce smeared on the inside. If you get the chance, try rolling your very own popiah!

Where to go?
Around Five Stones Hostel:
Qi Ji
#01-17 Funan Digitalife Mall, 109 North Bridge Rd
Opening hours: 9am – 8.30pm
And if you need even more choices
Glory
139 East Coast Road
Opening hours: 8.30am – 8.30pm (closed Mondays)
Kway Guan Huat
95 Joo Chiat Rd
Opening hours: 9am – 9pm
---
PORRIDGE / CONGEE
A thick rice porridge that is flavoured with meat, fish or even century eggs. It is typically eaten at breakfast or supper.

Where to go?
Around Five Stones Hostel:
Zhen Zhen Porridge
Stall 54 Maxwell Food Centre, Maxwell Rd
Opening hours: 5.30am – 2.30pm (closed on Tuesdays)
Jiu Ji
#02-184 Chinatown Complex Food Centre, Blk 335 Smith St
Opening hours: 9am – 8pm (closed on Mondays)
And if you need even more choices
Xian Ji Porridge
#01-72, Blk 57 Eng Hoon St (near Tiong Bahru Rd)
Opening hours: 7.30am – 11am (closed on Mondays)
G7 Sinma Frog Porridge
161 Geylang Rd (Lor 3), #01-01
Opening hours: 4pm – 4am
---
ROTI PRATA
This fried bread (you could call it Indian Pancake) was brought to Singapore by the South Indians. It is served with curry and you can order it plain or with different fillings like cheese, egg, onion and many others. Be sure to watch the cook flip the dough – it is pure art!

Where to go?
Around Five Stones Hostel:
Shah Alam Restaurant
20 Circular Rd
Opening hours: 24 hours
Flavours
Corner of South Bridge Rd and Mosque St
Opening hours: 24 hours
Hong Hock Eating House
325 New Bridge Rd (near Outram Park MRT)
Opening hours: 5pm – 9am
And if you need even more choices
Casuarina Curry Restaurant Pte Ltd
136/138 Casuarina Rd
Opening hours: 7am – midnight
Thasevi Food Famous Jalan Kayu Prata Restaurant
235/237/239 Jalan Kayu
Opening hours: 24 hours (closed on some Tuesdays)
The Cheese Prata Shop
16 – 18 Clementi Rd (near Kent Ridge bus terminal)
Opening hours: 24 hours (closed on Hari Raya)
---
SATAY
Marinated, grilled meat on a stick! You can choose from chicken, beef or mutton. It comes with a sweet peanut sauce. Makes for a great snack or side dish!

Where to go?
Around Five Stones Hostel:
Satay Street (various stalls. Satay Power stall 6 recommended )
Lao Pa Sat Festival Market, 18 Raffles Quay
Opening hours: 7pm – 3am (weekdays); 3pm – 3am (weekends and public holidays)
Shi Xiang Satay
#02-279 Chinatown Complex Food Centre, Blk 335 Smith St
Opening hours: 4 – 9pm (closed on Thursdays)
Alhambra Padang Satay
#01-15C The Esplanade Mall Makansutra Gluttons Bay, 8 Raffles Ave
Opening hours: 5pm – 2am (Mon – Thur); 5pm – 3am (Fri & Sat); 4pm – 1am (Sun)
And if you need even more choices
Warong Sudi Mampir
#01-19 Hazwani Food Junction, Malay Village, 39 Geylang Serai
Opening hours: 11am – 5pm (closed on Wednesdays and Thursdays)
Chuan Kee Satay
#01-85 Old Airport Rd Food Centre, Blk 51 Old Airport Rd
Opening hours: 6 – 11pm
For those with a sweet tooth…
---
ICE KACHANG
This cold dessert is the perfect antidote for those feeling the effects of the heat and humidity of Singapore. It looks really attractive too! It's a little hill of crushed or shaved ice, coloured red, green and brown by various syrups. Beneath the ice lie some treasures – attap chee (palm seed), red beans, sweet corn, jelly and others.
You can find a dessert stall selling ice kachang in just about any hawker centre in Singapore. And while you're there, make it a point to try some other local desserts as well, like Chendol, Bubor Cha Cha, Cheng Tng and Pulut Hitam.

Where to go?
Around Five Stones Hostel:
Peanut Ice Kachang
Stall 59, Maxwell Food Centre, Maxwell Rd
An Ji Xiang Hua Ice Jelly
#02-183 Chinatown Complex Food Centre, Blk 335 Smith St
Opening hours: 10.30am – 10.30pm
Annie Peanut Ice Kachang
#02-63 Tanjong Pagar Plaza Market & Food Centre, Blk 6 Tanjong Pagar Plaza
Opening hours: 10.30am – 7.30pm (weekdays); 10.30am – 6.30pm (Sat); 11am – 5pm (Sun)
Huat Kee
#02-53 Tanjong Pagar Plaza Market & Food Centre, Blk 6 Tanjong Pagar Plaza
Opening hours: 8am – 8pm (weekdays); 8am – 6pm (Sat); 11am – 3.30pm (Sun)
And if you need even more choices
Ken's Delights
#01-01 Dunman Food Centre, 271 Onan Rd
Opening hours: 12pm – 10pm
---
GLUTINOUS RICE BALLS aka AH BALLING aka TANG YUAN
A very popular Chinese dessert that is traditionally eaten with the family. These are balls made of glutinous rice flour and cooked in boiling water or ginger or peanut soup. They were originally eaten plain, but nowadays, have fillings like sesame, red bean and crushed peanuts. The shape of the balls symbolise family togetherness.

Where to go?
Around Five Stones Hostel:
Hai Sing Ah-Balling
#02-059 Chinatown Complex Food Centre, Blk 335 Smith St
Opening hours: 12 – 9pm (Tue – Wed, Fri – Sun); 12 – 6pm (Thur) Closed on Mondays
Zhen Jie Desserts Ah Balling
#02-113 Amoy Food Centre, Telok Ayer St
Opening hours: 11am – 6pm (weekdays & eve of public holidays); 11am – 3pm (weekends); 10am – 3pm (public holidays) Closed on alternate Saturdays
And if you need even more choices
75 Ah Balling Peanut Soup
#01-75 Golden Mile Food Centre, 505 Beach Rd
Opening hours: 11am – 9.30pm
---
Or if you have any particular cravings, just approach our friendly staff for the best recommendations in town! :)
If you don't try all of these before you leave, you haven't really been to Singapore [or so says Five Stones Hostel :) ]
1. Chilli Crab
Chilli Crabs
The most famous dish in Singapore – our finger licking good chilli crabs are  cooked in thick tomato and chilli based gravy. The crab is covered with plentiful of gravy and the crab meat is best eaten with the gravy. To mop up the excess gravy, we have fried 'man-tou" (fried buns) which are golden brown bundles of joy!
2. Hainanese Chicken Rice
Another all-time favorite. Most people have this at least once a month, some every week. This dish consists of boiled or roasted chicken, served on fragrant rice. Check out the video by Anthony Bourdain below on his chicken rice experience.
3. Satay
Satay is a dish consisting of bite-sized pieces of meat grilled on skewers. They come in different types of meat such as chicken, mutton, pork and beef. It is served with a flavourful spicy peanut sauce, slices of cucumbers and onions.
4. Ice Kachang
Crushed ice drenched with colored syrup, on top of a mix of red beans, attap seeds and jelly, Ice Kachang is a favorite way of cooling off from the sweltering heat.
5. Carrot Cake
Fried carrot cake is a favourite dish among many Singaporeans. It is flour mixed with radish and fried with dark sauce, turnip and sweet sauce and topped off with spring onions ('black' version), or fried without the sweet sauce ('white' version).
If you have exhuasted the top 5, try the following:
Char Kway Teow
Fishball noodles
Wanton Mee
Chilli Stingray
Handmade noodles or 'ban mian'
Bah Kut Teh
or our desserts / side dishes
Rojak
Roti Prata
Chendol
Chwee Kueh
Tau Hway 
Recommend us to your Friends
Singapore's Top Rated Hostel
Our visitors come from all over the world!