Browsing articles in "Heritage"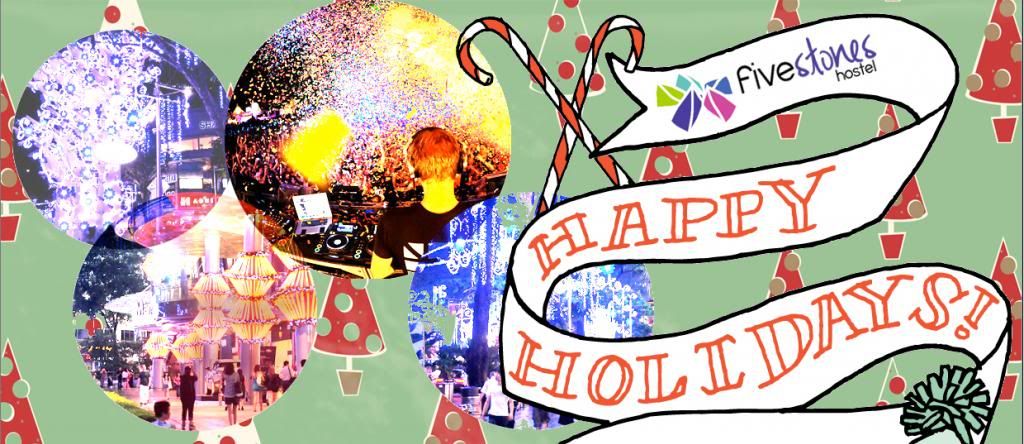 There are many ways to spend Christmas – with a family dinner, with friends at a party, soaking up the atmosphere in town but the best by far (in our opinion!) is spending it overseas with someone you love or just with new friends that you meet along the way.
If you are going to spend Christmas this year in Singapore, here are some big events that are happening during this festive season! Regardless if your party budget is big or small, we will definitely have somewhere in this red dot to keep you occupied. Drop us a message at Five Stones Hostel (Facebook) if you have any more suggestions for us to add in. We would love to hear from you!
Shop your way through the festivities 
From 17 November 2012 to 6 January 2013, get the chance to see Orchard Road – Singapore's main shopping street, light up & dazzle you with their light displays and Christmas ornaments. Rumor has it that Somerset 313, one of the malls in town, has one of the best Christmas display this year. However, don't take our word for it! If you have the chance to, talk a walk on your down and decide for yourself which fancies your attention more, the glam or the glitz!
Needless to explain, Zoukout is a yearly event that happens at Sentosa every year with some of the biggest music acts coming together to spin the wildest tracks just for you! Ticket prices start from $78SGD & up. If you are in the mood to party hard while your here, this event will not disappoint. Click here to be redirected to the ticketing page for Zoukout.
Count down the year with Marina Bay Sands
If neither shopping or partying are your way of ending the year off, maybe an old fashioned count down will do the trick! Doll up a bit more than usual (because you want to look for the camera during the last 10 minutes of 2012!) and head down to Marina Bay Sands (Nearest MRT: Bayfront) for the best last few hours of 2012. Do note that it won't just be counting down so be sure to keep your valuables stashed away in a safe place and leave your quiet side at home!
Stay in for Christmas/New Year's with us!
Lastly, if none of these are your fancy, you are welcome to book a bed with us at the hostel and stay in to revel with the atmosphere without actually being in it! Our hostel faces one of the main roads in town (South Bridge Road) which means even if you do feel like joining in last-minute with the festivities, it's nothing more than walking down to grab a cab into town – we are just ten minutes away! Otherwise, hot chocolate, 10 seasons of friends and good company awaits you at the hostel all night long.
PS: Do you have something else in mind? If you are already in town and have an idea of your own but no idea how to execute it, drop by our reception & approach any of our staff and let them know your plans for Christmas/New Years Eve. If we can do anything to help with your plans, we definitely will.
Cheers,
Five Stones Hostel Team
Looking for a worthwhile activity to do during your stay in Singapore? Why not try out the Singapore Flyer? Catered to both young and old, it's an attraction that will intrigue any type of traveller. Whether or not you are looking to just take some pictures, have a meal or try something different this is one place that will do well in aiding all your leisure (and play!) needs.
Here's our recommended itinerary for a half-day at the Singapore Flyer, we've also included a few extra places to check out at the end of it all if you still have time to wander around!
Our first stop – Singapore Flyer. No trip to Singapore is complete without giving a swirl on this huge ferris wheel-like contraption! Admission to this place starts from 8:30am all the way to the last spin at 10:15am. Depending on what you're in the mood for – if night lights and romance is you're looking for than heading to the flyer during the evening is a better bet but if you enjoy seeing clear skylines and beautiful architecture (it overlooks Marina Bay Sands as well as the soon to be opened Gardens By the Bay) than doing in the day would be your prime choice.
Prices start from just $29.50SGD for adult and $20.65SGD for a child, if you're a bit younger – say 60 and above than it will be just $23.60SGD for a spin. If your wallet is feeling up to it, you can also consider having a full fledged butler served meal in one of the capsules itself! All for a good price of $269SGD++ per couple. Tickets for the flyer itself can be bought on-site but for the dining option, it's best to book online.
Credits to Kayla http://kaylalu.blogspot.sg/2011/07/kenko-fish-spa.html
While we may love staring at fishes through huge tinted glasses in aquariums and getting a chance to pet their fishy heads during meet and great sessions, nothing beats being able to let them (fishes) 'physically' interact with you! A great place to check out is Kenko Spa which offers fish spa services. Yes you heard right. The general idea is to dip your leg into a pond of nibbling fishes and let them exfoliate your dead skin for you, think of it as having a facial but instead of a professionally trained aesthetician you get a school of fishes eagerly waiting to be friends with your feet. It will definitely be an experience worth laughing about!
Lastly, finish off your night with a meal at the The Singapore Food Trail! Featuring 12 stalls of mouth watering delectable dishes, there will definitely be a dish that will attract both your eyes and stomach. We also love how they have managed to replicate the Singapore food scene back in the 1960's right down to the last teaspoon!
Here are our top few dishes that you definitely should not miss out during your visit to The Singapore Food Trail!
1. Oyster Omelette
A combination of fried eggs, oysters and a few dollops of potato starch is what make this dish yummy! The fun part of eating this is grabbing a serving of each component (including the green garnish) and dipping it in chilli than eating all of it together. Too yummy indeed.
2. Popiah
Simply put, Popiah is a thin crepe-like wrap filled with cooked white turnip, beansprouts, chopped up eggs and a variety of julienned vegetables. Soft on the outside but full of crunch on the inside! This is one healthy asian wrap you do not want to miss.
3. Satay Bee Hoon
Satay Bee Hoon is a chilli-based peanut dish that manages to harmonize both sweet and spicy flavors together in one dish. It complements it's flavor well with bee hoon (a type of rice based noodle) topped with slices of cuttle fish, lean pork, cockles and hearty servings of greens.
4. Sugarcane and Bird Nest Drink
There's nothing quite soothing as quenching your thirst down with a big 'ol cup of Sugar Cane Juice. Naturally sweet on it's own, it's a drink that's both refreshing and interesting! If you are feeling a bit more adventurous, try the Bird Nest Drink which as the name suggests contains bits of bird nest inside.
5. Ice Kachang
To top it all off, end your meal with Ice Kachang – a mini ice mountain poured over with sweetened syrups of different colors – the best part about this dessert is finding out there is a treasure trove of fruit cocktails and dressings hidden inside the Ice Kachang waiting for it's lucky eater to devour all of it up.
Now, isn't this a great way to spend your day in Singapore? We daresay yes on your behalf! :)
Awww, how could we not post a guide to the Five Stones game. It is a Singaporean game that all of us at Five Stones Hostel played when we were young.
Game Objective:
Five stones is played by 2 or more players, using 5 small triangular cloth bags filled with rice, sand or saga seeds (see our logo!).  To win the game, you need to have superior dexterity skills in order to complete a series of steps without dropping any of the five stones on the table/floor. Some has likened this game to 'jacks' but it is not entirely the same.
How to Play:
Step 1: Players sit around a table or on the ground. The first player throws all five stones randomly on the ground/table. The trick is to scatter them just enough to enable easy reach later on.
Step 2: Pick up one of them, position your hand over an existing stone. Whilst throwing a stone, pick up one stone and catch the stone in the air before it falls to the ground. Do this for each of the stones on the ground.
Step 3: Repeat step 2 but pick up two stones at a time.
Step 4: Repeat step 2 but pick up  three stones first before picking up the final one.
Step 5: Throw all five stones. Pick up four stones whilst one stone is in the air and catch it before it falls to the ground.
Step 6: Whilst throwing one stone, place the four on the ground. Throw one stone up again and catch it whilst picking all four stones on the ground.
Step 7: Throw all five stones on the ground. Pick two stones. Throw one in the air and exchange the other with one on the ground. (yes this is tough!) Do the same with the remaining stones on the ground.
Step 8: Throw the two stones held at the end of Step 7. Pick up one stone and then catch the two falling stones separately in each hand. Do this until there is three stones in one hand and two in the other. Throw the two stones and catch it separately. Throw the remaining stone and catch it with the hand that has all the stones.
Step 9: Throw all five stones on the ground. The opponent selects a stone to be thrown in the air. The player has to pick this stone without moving any others. The player throws the stone in the air and picks the remaining on the ground in one clean sweep.
If at any point of time the player fails to complete this sequence of nine steps, he/she will have to forfeit his turn to his opponent. If his/her opponent's fails to complete the sequence, the player will restart the step where he/she failed to complete.
Sounds tough? Come stay with us and we will teach you!
Recommend us to your Friends
Singapore's Top Rated Hostel
Our visitors come from all over the world!